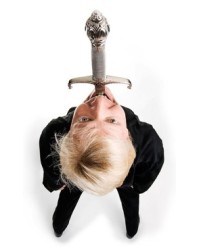 Dan Meyer
What do you get when you combine cutting edge entertainment with profound impact?
Cutting Edge INNERtainment Sword Swallower, Fire-eater, Juggler and International Christian Speaker
Like a double-edge sword, it's Fun, flashy ENTERTAINMENT with an EDGE, a cut above the rest, that catches the eye and engages the mind. On a deeper level, it's INNERTAINMENT with an IMPACT, a PROGRAM with a POINT, that pierces the heart, and makes a lasting impression
America's Got Talent "Most Dangerous Act" to the Finals 40x World Champion Sword Swallower 7x Guinness World Record Holder 5x Ripley's Believe It or Not Stan Lee's Superhumans Winner of 2007 Ig Nobel Prize in Medicine at Harvard President and World's Leading Expert in Sword Swallowing International TEDx speaker Inspirational Christian Speaker Seen by over 750 Million in over 40 countries around the world.