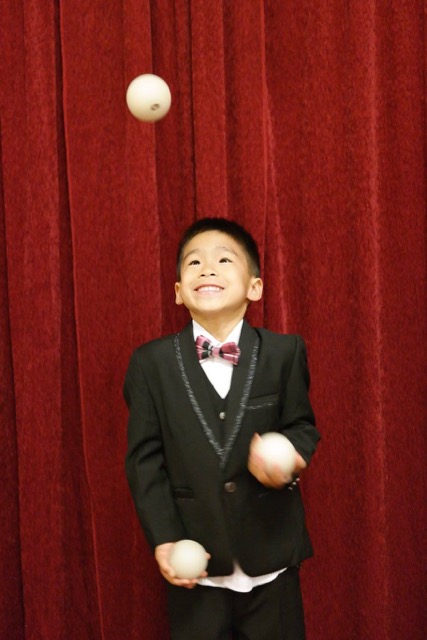 James Chan
For family events James can really light up the crowd.
James Chan is a charming magician with an amazing personality who specializes in family events and birthday parties. He is one of the most skilled youth jugglers in the Bay Area. Under the direction of his dad Dan Chan, he has recently added a very unique variety show that will dazzle your audiences. James can perform a solo 3 and 4 ball juggling routine, perform several silly routines including the ABC blocks, "Pom Pom" magic, and even make a live dove appear and disappear. In addition for corporate audiences James does an amazing math routine that will baffle the most intelligent members of your audience. To finish off the show he'll climb into a 6 foot tall by 6 foot wide balloon. That stunt is sure to amaze your guests!
His ability to perform difficult juggling stunts with amazing ease has been enjoyed by countless audiences. James has performed at many birthday parties around the Bay Area, Mill Valley's Fall Art Festival, Google's Company Picnic, Sacramento's Crocker Museum, Oracle's Family Fun Day, the Olympic Club, and many other events around the Bay Area.
"You should hire me because I truly love what I do." I've been practicing about one hour a day for the last few years and this hobby of mine is expensive. I study all the best magicians and jugglers from around the world and invest what I earn in juggling equipment, props, magic dvd's, and magic lessons. I've performed at the International Juggler's Association's Renegade stage as the youngest juggler on stage in 2014. During the 2014 holiday season I "busked" and street performed in San Francisco's Union Square. I also went to Las Vegas to see Mac King, the V Show, Jeff Civillico, Dirk Arthur, Penn and Teller, and my hero David Copperfield. James typically comes to your event with his mom or dad. His mom Kat will bring one ultra fancy balloon sculpture to your party or his dad Dan will perform a few effects. For events on a budget, James can perform solo. For these events we recommend a 10 minute high impact "stage" performance done to music and 45 minute of walk around magic.
Daniel's video
415-244-2700
danchanpresents@gmail.com
San Francisco, CA